Katie is a pharmacist in training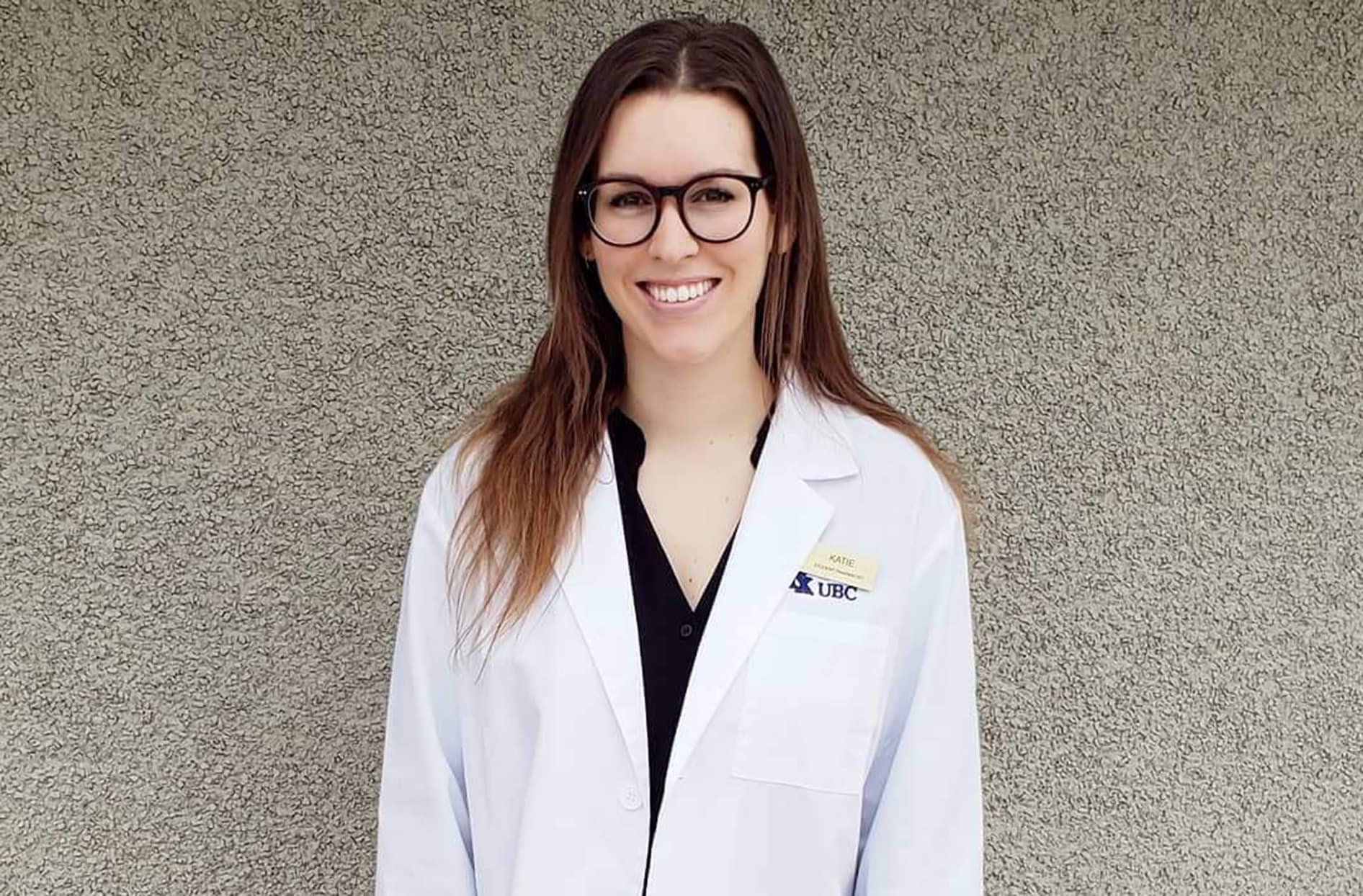 You could say that Katie Trees fell into the pharmacy profession.
When she was in high school, a pharmacist from her local Shoppers Drug Mart® store in Port Alberni, British Columbia, approached her school's career counsellor to ask if there were any science students who might want to work as a pharmacy assistant. They suggested Katie, now 30, might be a good fit. "I knew I wanted a career in healthcare but I had no idea what pharmacy was or what I'd be doing."
Almost 14 years later, Katie will graduate with a Doctor of Pharmacy degree (PharmD) from the University of British Columbia (UBC) in May 2022. Except for a four year break during her Bachelor of Science, she continued to work as a pharmacy assistant at different Shoppers Drug Mart locations, including in Nanaimo and in the pharmacy on the UBC campus. Earlier this year, Katie was one of 200 Loblaw colleagues and employees to earn a $1,500 scholarship from the Loblaw Scholarship Fund. Previously open to all Canadian citizens, the program is now available exclusively to company staff to help in their career development.
"Student loans don't cover the entire cost of the doctorate. The scholarship has definitely made me less stressed about finances and has allowed me to focus more on my classes and practicum," says Katie, adding that Shoppers Drug Mart has been really supportive and allows her to determine her schedule while she completes her PharmD.
Some days that means completing an 8 hour practicum shift at the hospital before heading straight to work. For many, that would be too much, but for Katie, working helps her better manage her time. Then, there's the fact that she seems to really love working in a community pharmacy setting. '"I've met so many amazing patients." She recalls one in particular — a cancer patient who was having a hard time getting her palliative care meds covered. Katie was able to work with her family and the system to ensure a better quality end of life.
"That made me realize how important pharmacy is and how people depend on us. It feels good to help other people and make a difficult situation a little bit easier."
Katie says that people often think pharmacists simply count out and distribute pills but they are really the last step between a patient and their medication. They can understand what's wrong with a patient by looking at the list of medications they are on and intervene if there is a possibility of a bad interaction when a new one is added to the mix.
Now as a pharmacist student, Katie can do much more. She can counsel patients and do injections, under the supervision of a licensed pharmacist. She's not sure what she wants to do when she graduates, but she knows that she would like to be involved in the community in some way.
"In school we learned that community pharmacists are some of the most accessible healthcare professionals and ones that people trust the most."
With her years of experience as a pharmacy assistant, Katie already has a good sense of how to build that trust. "Shoppers Drug Mart has really shaped the person I am today, and I will be a better pharmacist because of it."